Fr. Conceicao Rodrigues college of Engineering Provides support for various Government and Non-Government scholarships to help needy students for their education.
List and Information about the scholarship are as follows.
1. Government Scholarship Schemes 
Government of India Scholarship for ST, SC, OBC, VJ-NT, SBC
EBC scholarships by DTE
Minority Scholarships 
AICTE scholarship schemes for Students
Following scholarship schemes of AICTE are available for the students: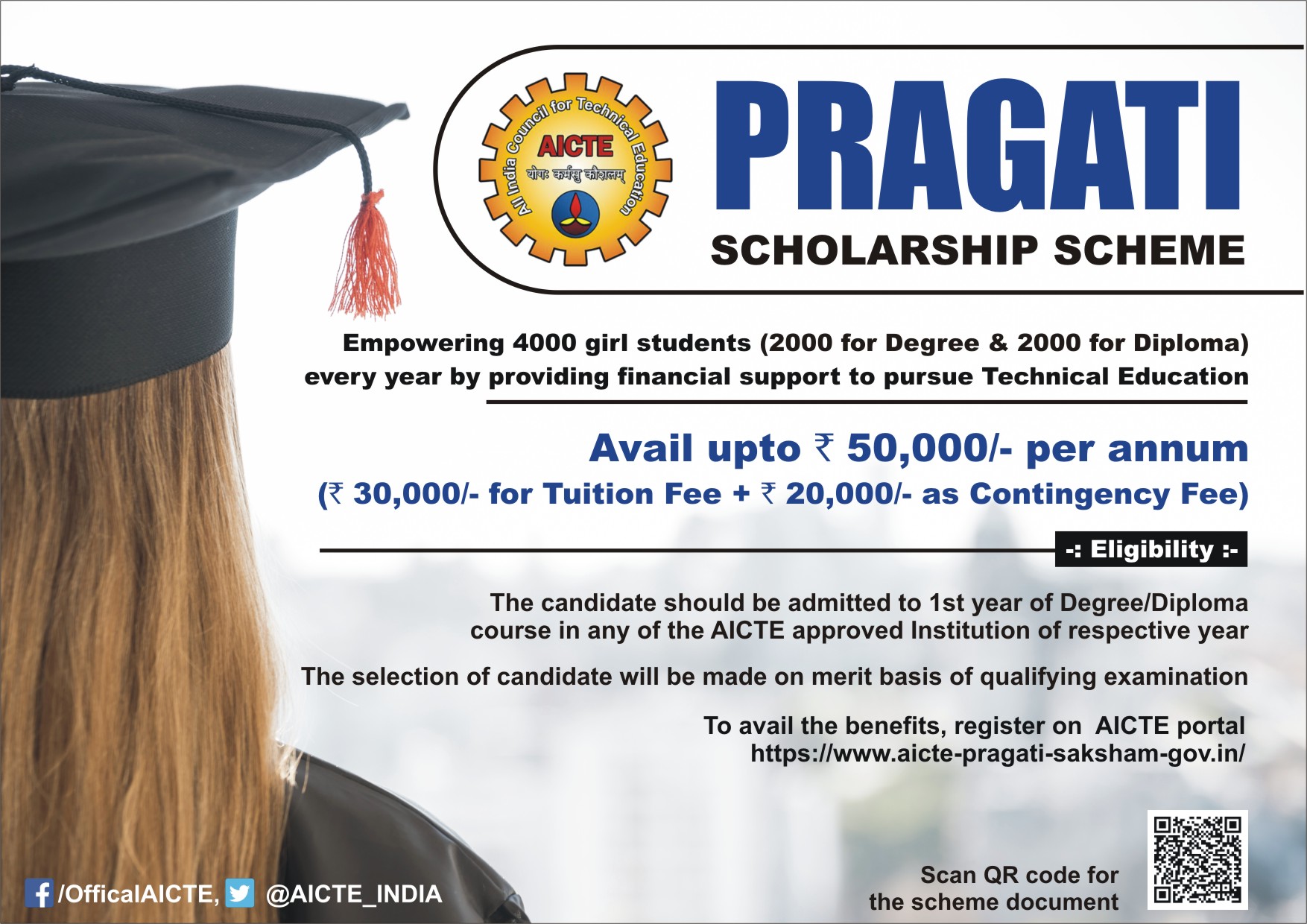 AICTE – PRAGATI Scholarship Scheme for Girl students (Technical Diploma Level- Only for AICTE Approved Institutions and Courses).
AICTE – PRAGATI Scholarship Scheme for Girl students (Technical Degree Level- Only for AICTE Approved Institutions and Courses).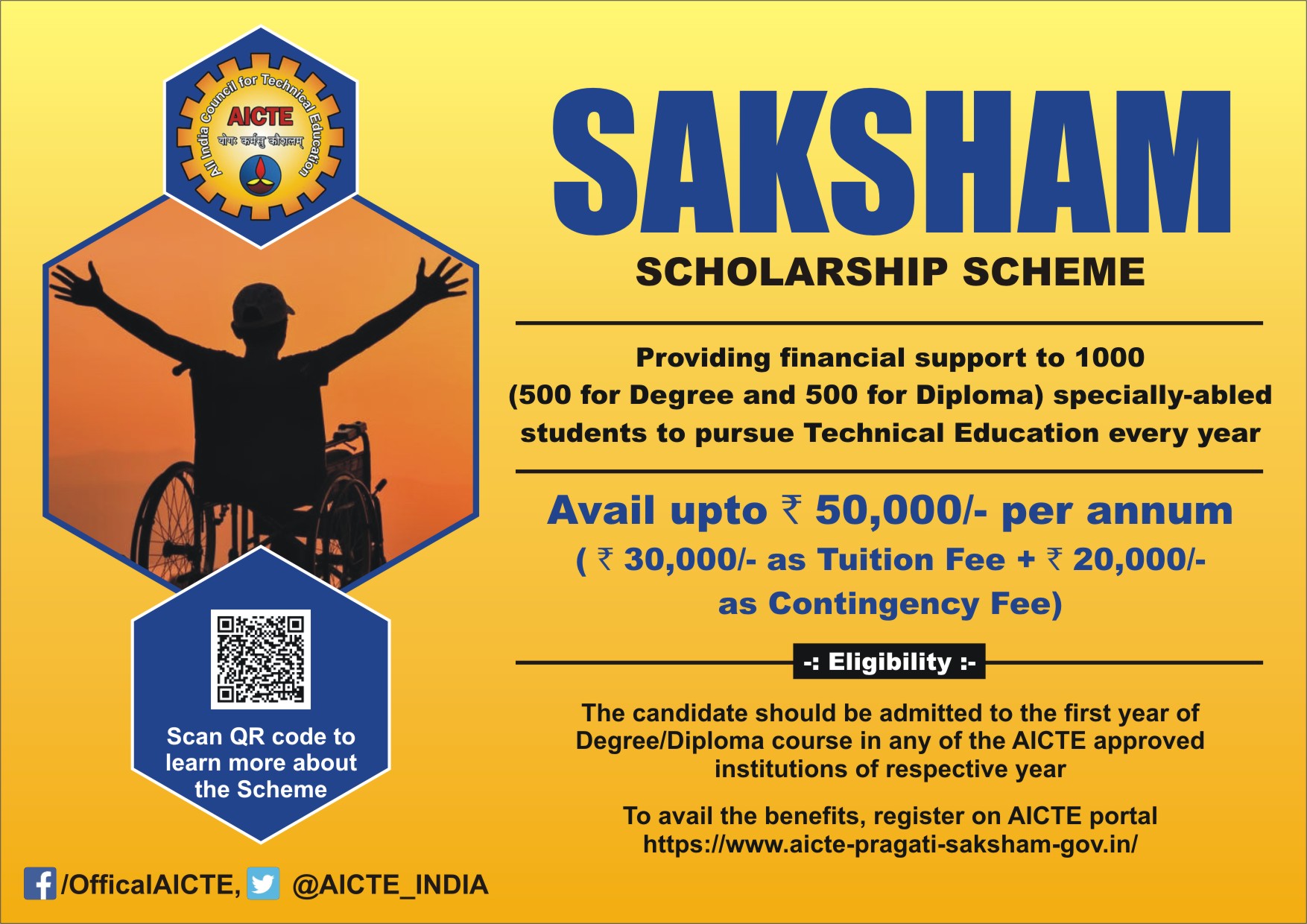 AICTE – SAKSHAM Scholarship Scheme for Specially-abled students (Technical Diploma Level - Only for AICTE Approved Institutions and Courses).
AICTE – SAKSHAM Scholarship Scheme for Specially-abled students (Technical Degree Level - Only for AICTE Approved Institutions and Courses).
SSPCA- Support to Student for Participating in Competition Abroad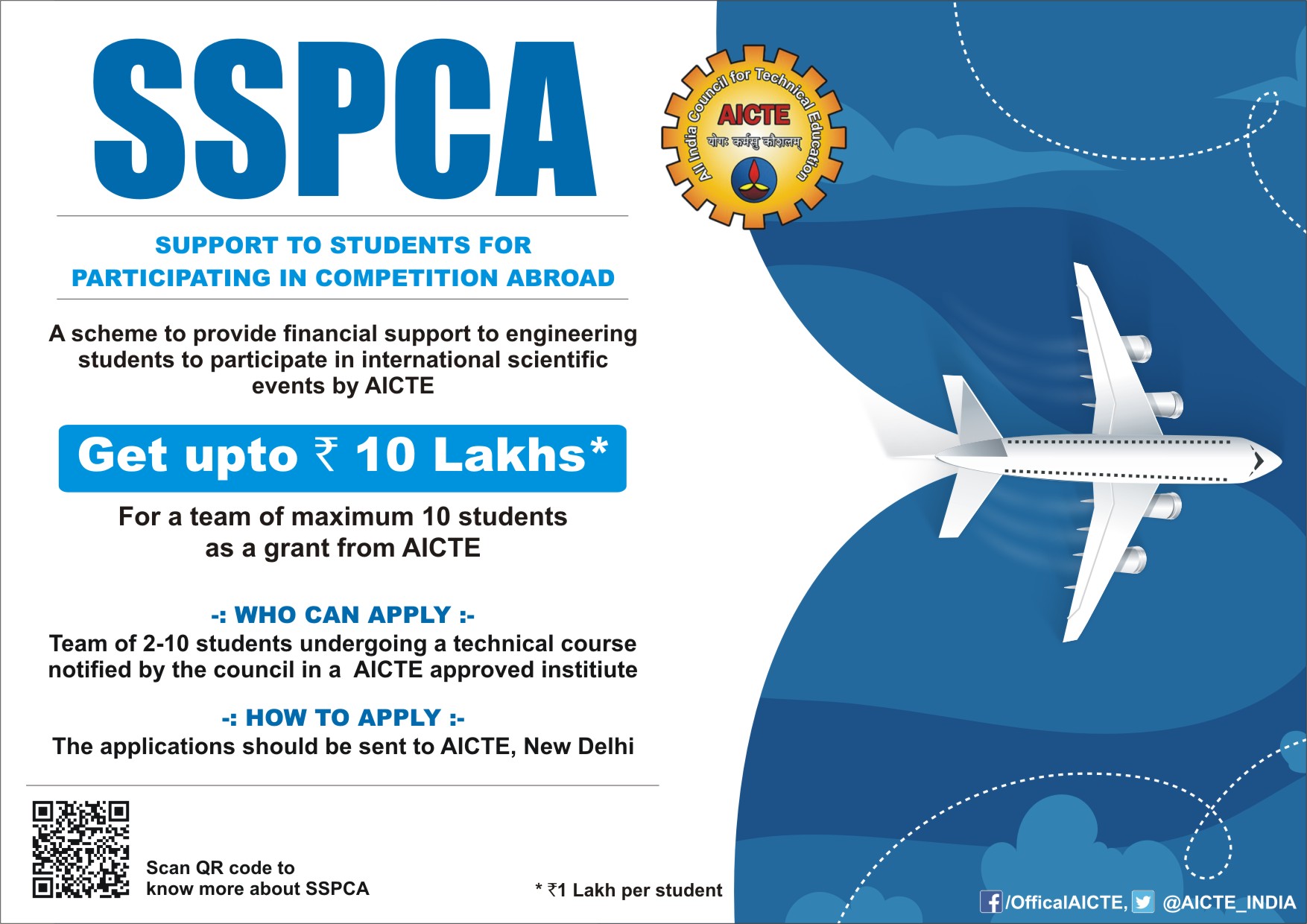 Post Graduate Scholarship Scheme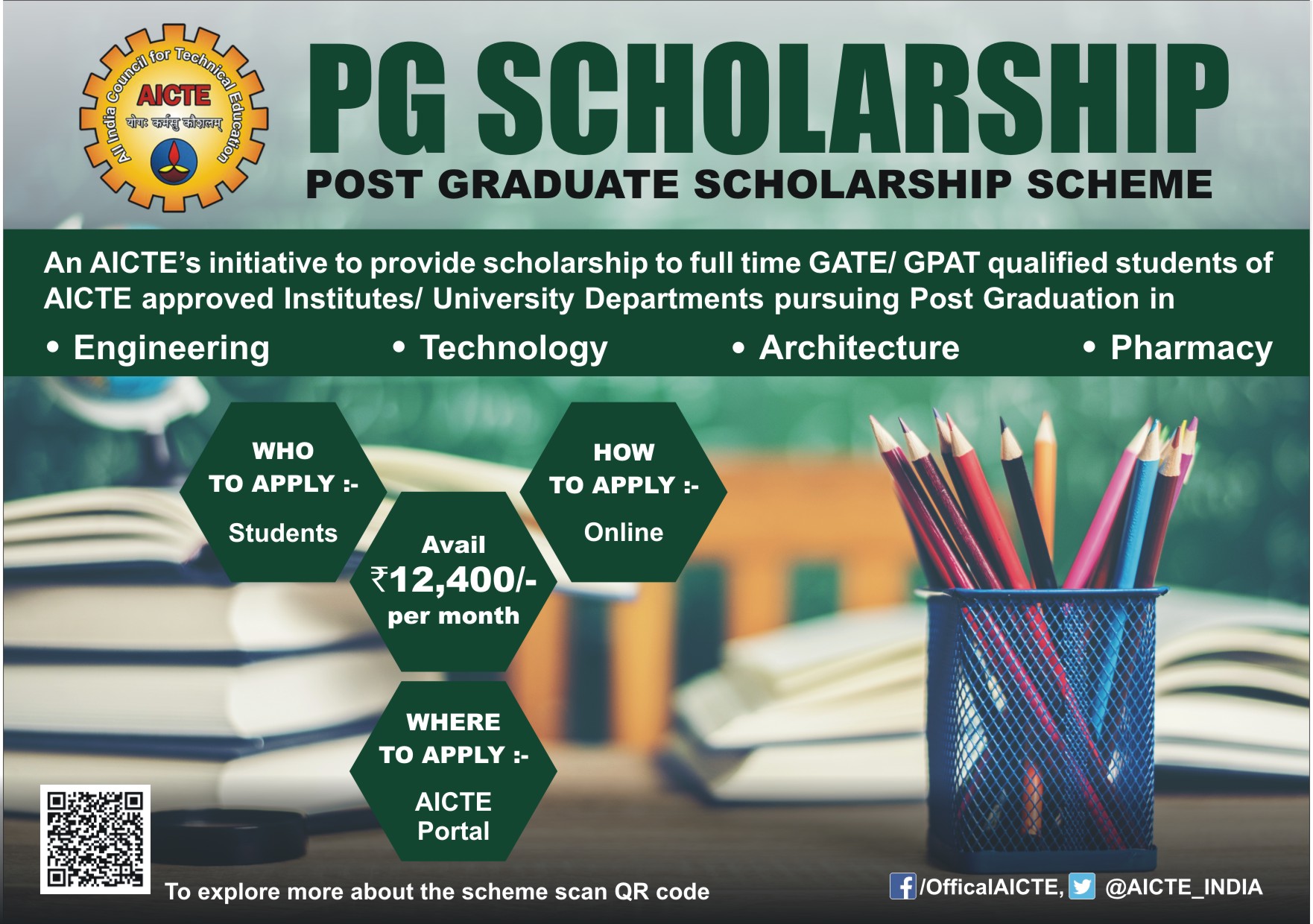 For any query/assistance related to the above AICTE scholarship schemes contact details are: 
Mr. Sundar Bulani,
Nodal Officer, scholarship schemes of AICTE
Officer on Special Duty (DBT Cell),
Directorate of Technical Education, Maharashtra
Contact No - 022-68597487, 9850380210,
Email id: This email address is being protected from spambots. You need JavaScript enabled to view it.
Dr Amit Kumar Srivastava
Director
Student Development Cell
All India Council for Technical Education (AICTE),
Nelson Mandela Road,
Vasant Kunj, New Delhi-110070
Phone: 011-29581210
Website: www.aicte-india.org
***********************************************************************************************************
2. NON-Government Scholarships Schemes
Bluestar Foundation scholarship
Narotam Sekhsaria Foundation Scholarship
JSW Scholarship
Ratan Tata Foundation Scholarship
STULZ-CHSPL FOUNDATION - Alumni Scholarship
Vidyasaaarathi: NSDL e-Governance Infrastructure Limited  ( CLICK HERE TO APPLY )
Vidyasaarathi is a technology-enabled initiative by NSDL e-Governance Infrastructure Limited (NSDL e-Gov) to bridge the gap in education finance in the country through an online platform. Students can search and apply for various education finance schemes they are qualified for. Fund providers, industries, and corporates can promote skill development by designing education finance schemes in Vidyasaarathi and manage these schemes
MOHAN T ADVANI CENTENNIAL SCHOLARSHIPS F@UNDATION
About Mohan T Advani Centennial Scholarships by Blue Star Foundation
The objective of the Mohan T Advani Centennial Scholarships programme is to support economically challenged but academically deserving, undergraduate students to pursue a professional degree to their liking and capability, and prepare them in a holistic manner for future work life.
The scholarship shall be provided to meet part of the tuition fees of undergraduate engineering students studying in recognized, Govt. un-aided colleges. These are available for students who have opted for Mechanical (Production)/ Electrical/ Electronics Engineering. The students shall be accountable to furnish the balance fees to ensure a sizeable stake and commitment from the student's side towards completing the course.
The students will be supported as stated earlier throughout the course, subject to the fulfillment of the set criteria of academic performance, each year.
Blue Star Foundation shall endeavor to support the students in a holistic manner vide mentorship as well as internship opportunities.
Itis is pertinent that the students should not be beneficiaries of any other scholarship offered by or independent of the college he/she is studying in.
The deserving students will be screened by the college and the final selection shall be done by a Board comprising the Trustees of Blue Star Foundation and HR personnel of Blue Star Limited.
The scholarship is open to students purely on the merit of their academic and economic background, irrespective of their religion, community, caste or linguistic background.
Blue Star shall endeavor to absorb the students after they pass out from the 4" year, based on the merit of the student and a suitable position available in the organization for him/her. This job opportunity, if offered, shall be completely voluntary for the students to accept. Thus, the scholarship programme aims to help meritorious and needy students - both academically and professionally, thereby transforming their lives significantly.
About Blue Star Foundation
Blue Star Foundation established in 1982, is a registered Trust of Blue Star Limited. The objects of the Trust are stated under four heads; namely, Education, Medical Help, Relief of Poverty and Other objects of general public welfare and utility including help to poor, needy, women, children, senior citizens, disabled and mentally disturbed individuals from rural and urban areas, environmental causes, etc. through various NGOs / NPOs who are engaged in such humanitarian causes.
The Foundation's activities are spread all over the country, and donations are given to welfare institutions located in India only. No donations are given to individuals and all payments are made through cheques and not in cash or kind.
At Narotam Sekhsaria Foundation, we empower not-for-profit organizations and social entrepreneurs to make a positive, lasting and sustainable impact on society. We are among the leading funding agencies in India. As a charitable funding agency, our focus areas include promoting excellence among individuals, improving the quality of life for socially and economically disadvantaged communities, and promoting and protecting Indian traditions.
Established in 2002 by Mr. Narotam Sekhsaria, we have established a successful track record of identifying and supporting meritorious developmental enterprises across diverse domains including health, education, and livelihood. Inspired by the vision for a socially, culturally and economically vibrant India, the Narotam Sekhsaria Foundation remains committed to facilitating meaningful change in the country. 
The Narotam Sekhsaria Foundation is offering engineering scholarships to final year BE/BTech students for the academic year 2020-21. The scholarship is applicable only to students who are studying in colleges that are part of the scholarship programme. 
JSW Foundation
The main aim of the JSW Foundation  Scholarship scheme is to filter brilliant and hardworking talented candidates and provide financial aid to the student to complete their higher studies.
Ratan Tata  Scholarship
Tata Education and Development Trust- a philanthropic affiliate of India's Tata Group - a $25 million endowment has been established that will allow Cornell to provide financial aid to undergraduate students from India. The fund will support approximately 20 scholars at any given time and will ensure that the very best Indian students have access to Cornell, regardless of their financial circumstances.
STULZ-CHSPL Foundation
STULZ_CHSPL FOUNDATION  is not a profit organization formed under Section-B of companies ACT 2013. The primary objective is to undertake CSR activities with more focus, dedication, and efficiency. This scholarship has started in this college in 2018-19.
The British Council is offering scholarships under the aforementioned scholarship programme in partnership with UK Universities aimed at benefitting women from South Asian countries including India. 
A range of programs in STEM (Science, Technology, Engineering, Mathematics) subjects are being offered by 8 UK Universities to women from India, Bangladesh, Pakistan, Sri Lanka, Nepal and Afghanistan. The scholarship is to study a master's degree by women who can demonstrate their need for financial support and who wish to inspire future generations of women to pursue careers in STEM.
Interested applicants are expected to apply to the UK University directly in the programme of their choice by end of March 2021 for their course. The UK University partnered for Indian applicants is the City, University of London (https://www.city.ac.uk/study/fees-and-funding/scholarships-andbursaries/british-council-scholarships-for-women-in-stem).
Detailed information on the scholarship programme and application process is available at https://www.britishcouncil.org/study-work-abroad/inuk/scholarship-women-stem.
For further queries, you may contact the External Scholarship Division at 011-26172492.